Anniversary 60 Years! Global Events
GA 2009 Address by Nobel Prize Scientist
Cost Rica 60 Years Celebrations
-Servas India, at the Peaceful Society, January 2010 link New
-The Asia- Europe Intercontinent Expedition, March 2010 link
--Servas Korea Country Pilgrimage - Various dates and locations (December 2008 Newsletter, page 2) link
-Anniversary Celebrations, Brazil, January 2009, link
-Anniversary Celebrations, Honduras, January 2009 link
-Anniversary Dinner, Belgium and Luxembourg, February 2009 link
-Anniversary Walk, Belgium and Luxembourg, February 2009 link
-Potluck Dinner, Canada, February 2009 link
-Latin American Servas Meeting, Servas Colombia, April 2009 link
-5 City Meeting, Servas Belgium, April 2009, link
-Anniversary Celebrations coupled with Annual General Meeting, Australia, April 2009 link
-Peace Conference, England, May 2009 link
-Kite Festival, Turkey, May 2009 link
-Cycling Tour, Belgium, June 2009 link
-Pathway Together, Italy, July 2009 link
-Pathway Together 2nd Week, Italy, July 2009 link
-Canons Instead of Cannons, Switzerland, July 2009 link
-Servas Denmark, Elsinore, Denmark, August 2009 link
-Servas Netherlands, Elburg, The Netherlands, August 2009 link
-Servas Netherlands, Elburg, The Netherlands, August 2009 link
-Canons Instead of Cannons, Switzerland, September 2009 link
-Servas General Assembly, pre-events, Argentina, September 2009, link
-Servas General Assembly, Event, Argentina, September 2009, link
-Servas Alpe-Adria Meeting, September 2009, link
-60 Years in Lahore, Pakistan, October 2009 link
-60 Years, Belgium, October 2009 link
-Celebrating 60 Years in Goa, India, October 2009 link
-Celebrating 60 Years in Galilee, Israel, October 2009 link
-Weekend in the Ardennes, Belgium, October 2009 link
-Servas Korea Country Pilgrimage - Various dates and locations (December 2008 Newsletter, page 2) link
GA 2009 Address by Nobel Prize Scientist

Nobel Prize Scientist addresses Servas audience
Sheldon G. Weeks
04-09-09

Professor Pablo Canziani, an Argentinean physicist, who was part of the research team that shared the 2007 Nobel Peace Prize with Al Gore, spoke to 60 people from 41 countries gathered for a pre-Servas General Assembly event in Buenos Aires.

Gary Sealey, President of Servas International, introduced Professor Canziani to the gathering. Servas is now 60-years old. It was the first and pioneering peace organization to work through promoting contacts, understanding and exchanges between peoples in all countries in the world. Servas now has national groups in 100 countries and around 15,000 members worldwide. Servas has included a concern for the environment as one of its platforms.

Professor Canziani wished to share his concerns over environmental degradation, erosion of the ozone layer, decreases in bio-diversity, deforestation, desertification and the crisis in water that are occurring at a global level. In out current situation one plus one never equals two. Of all the sources of global warming three stand out from the perspective of Argentina: deforestation; improper land use; and energy production. These three can easily be reversed, but require a concerted effort at both the individual, community and state levels.

The current crisis is of such a magnitude that the state should be subsidizing people not to cut down forests. It is important to recognize that reforestation must include programmes of replanting of indigenous trees. For example, in Argentina the Australian eucalyptus has been planted, but is destructive of the environment, both in its consumption of water and the way eucalyptus produces greenhouse gases and reflects the sun. Our earth is a living organism so the way we farm, the ways in which we generate electricity have consequences. In Argentina the grasslands also capture CO2. In fact the production of Argentinean beef is sounder and more environmentally friendly then practices in Europe and North American of intensive, battery type farming of cattle.

When a whole ecosystem is destroyed, as has been happening to tropical rainforests, it has consequences that go beyond the local area. Argentinean rainfalls come from the Brazilian rainforests. Their destruction will alter the rainfalls available for Argentina. In Brazil the loss of the forest canopy has resulted in rising temperatures, increased drought, flooding and other consequences of an un-stabilized ecosystem. The loss of biodiversity also results in the loss of knowledge.

Professor Canziani noted how the Incas grew a variety of cottons that naturally had different colours, from brown, red, ochre and black, but the colonizers preferred white cotton and the others vanished. Such losses are normally irreversible (and have been occurring worldwide), but from seeds buried with ancient mummies in the Peruvian desert scientists are no resurrecting the lost species of cotton.

In the end a natural resource is destroyed with no real gain, as in Africa levels of poverty, disease and violence have continued and offset the supposed gains called "development". The quality of life and standard of living in most of Africa as recorded by the UNDP is lower today than in 1970s. From Professor Canziani's view point people need to begin to change the way they live. Greater reliance on solar power, even generating electricity from solar and wind power that is sold into the national grids will help. This is already happening in parts of Europe. People need to be aware of the links between society, the economy and the environment. These are the three legs of the stool of life that must be supported equally or it collapses.

Action is possible. It begins with the extended family. Then heightened awareness, followed by education and community involvement. At the society level taxes and subsidies can be used to support positive action and decrease bad practices. Research is required to evaluate real costs (for example the impact on society and the environment if a railway system is closed) and to promote new solutions (not just solar power for a household, but solar power that adds to national grids). The threat by the European Union not to purchase products from Brazil unless deforestation ceased has finally had an impact on Brazil. We must constantly seek the truth about what is happening.

Servas is a network, and the changes required to reverse global warming will occur through the concerted efforts of a multitude of networks across the globe.
Servas Argentina will host the 2009 General Assembly. More information about the 2009 General Assembly, hosts, schedule as well as pre and post General Assembly events can be found on
this website
. (In Spanish only)
Greetings from Buenos Aires:

It is Monday the 31st of August and it is a cold, wet, windy day. They say the weather here is like Cape Town's. I have been out already to look for the cell phone shop to buy a local Simm card. On Saturday I walked 20 blocks looking for it, but find I was misdirected. It is only 1 and ½ blocks away from the Hotel Monseratt where I am staying. But the name signs for the street are missing, thus part of my problem on Saturday. And it only opens at 1 pm. There at 11 am, so closed up tight too so far today.

On Sunday most things were closed. I did walk about 3 km to Paza de Mayo in the oldest section of town, and was able to take in two of the 102 museums in Buenos Aires. Both were small, but interesting, with entry fees of one and two pesos. The City Museum was a mix of artefacts from the past, the most striking being a child's bed made in the shape of a swan. Quaker Oats was there along with Nigger Dates (a sign of the times). And a challenge on bras? (See photos attached.)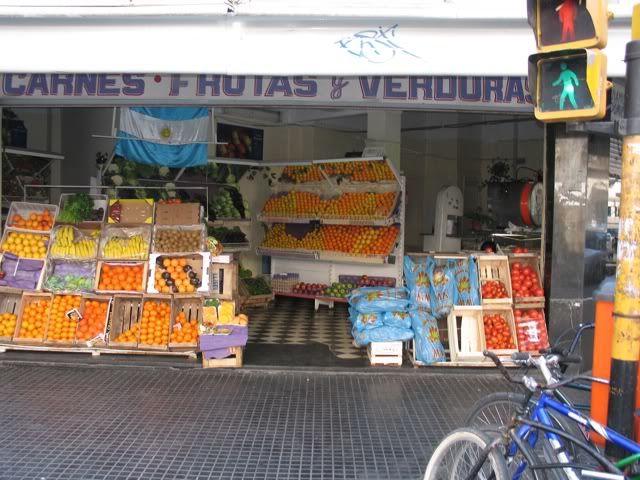 I had to wait two hours for the anthropology museum to open, so found the nearest Café, The Puerto Rico, a Tango establishment. Sat near the stage in the light of a skylight, had a three layered cheese cake and cappuccino and read about 50 pages in Wangari Muta Maathai's "The Challenge for Africa: A New Vision". She has really laid down a challenge for the subordinate majority world to arise, as her arguments are not confined to Africa.
Love to all,
Sheldon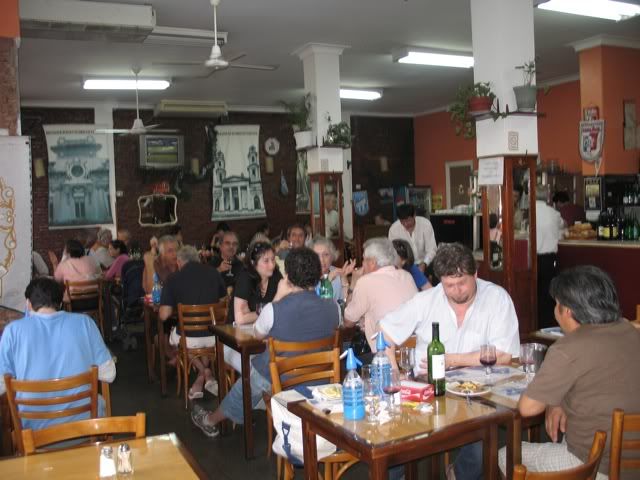 The Anthropology Museum is in an old building (being renovated on the outside (thus the "curtains" in the photo. Inside there are four exhibition rooms, work and collection areas and a library. The pre-Colombian collection upstairs is small but interesting, and mainly confined to areas going up through Peru from Argentina. One room is devoted to the Indians of the southern peninsula (to Cape Horn) and their conquest and assimilation. In a middle gallery they were preparing for a French documentary film festival. Later Sunday they were showing a film on the indigenes that were exported to be shown around the world as "freaks" (it happened to the San, the Sami and to people from Asia and South America). I have the list for future GFS possibilities?
From there I walked up to Plaza de Mayo and then took the Metro back two stops to Independence, which exits on Avenue 9 July near Chile and where I am staying. I had my giant salad dinner and then wrote a book review of "The Rowing Lessons" and a film review of "Two Loves". And listened to more varied music on the laptop.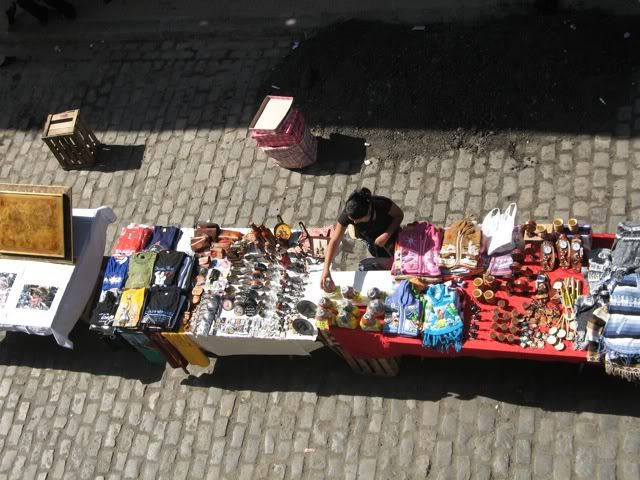 Trying to rest, relax, recover my energy, and not get sick from the long day and a half journey here plus the impact of tensions over the past months. After my review of "The Challenge for Africa: A New Vision" I need to watch the extras on "Taking Root" about her and the Green Belt Movement. So far the book is a reasonably summary of problems and contradictions, successes and failures, across Africa since WWII. The book would be too long if it was more erudite and detailed. In the end it is a polemic that is grounded in fact and offers ways forward out of predicaments. I have learned that in Niger a greenbelt movement has panted trees over 7.5 million acres and turned back the Sahel. Hope all is well for you there. Here I must also write up the open-ended replies to Evaluation Services Team Botswana's web-based survey on the grant loan scheme for financing tertiary education.
Unfortunately the ISP for Hotel Manserrat's wireless system is still down. Thus I have not yet been able to read and integrate all the documentation for the Servas gatherings. The pre-General Assembly meetings begin on the 3rd and the full gathering on the 5th of Sep

President of Servas International, Gary Sealey, prepares for the General Assembly of 2009.
September's Servas General Assembly : Over 70 delegates attended this global triennial meeting at the sea-side resort of Mar del Plata, Argentina.
Pictures from the General Assembly 2009 location now available
here
.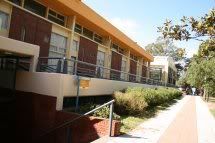 Estimados Servas
El 24 de Octubre del presente año celebramos en Costa Rica los 60 años de SERVAS INTERNACIONAL
Un evento exitoso y muy bello por la convivencia lograda entre los participantes, miembros de SERVAS y otros.
Tuvimos la presencia del Secretario de Honduras, su esposa y el Señor Nehemías Orellana.
Adela Segura Deputy de SERVAS Guatemala y la señora Fanny Bella SERVAS de Venezuela
Además de unos cuarenta invitados locales, miembros de SERVAS y otros
Fue un convivio muy gratificante donde todos participamos
Disfrutamos de una charla sobre la Paz ofrecida por un conocido orador y motivador profesional Rafael Murillo
También tuvimos actividades grupales como juegos y presentaciones artísticas de baile
Por supuesto luego de las actividades se organizo un almuerzo con todos los que atendieron
Realmente es una gran motivación y honor pertenecer a SERVAS una organización que fomenta la Paz Mundial
Muchas Gracias
En Paz
Carmen
Secretaria Servas Costa Rica
DEAR SERVAS
The past October 24 we SERVAS Costa Rica celebrated the SERVAS INTERNATIONAL 60 Th Anniversary
A very successful and beautiful event with the assistance of SERVAS members and other guest sharing a great afternoon together
We had the presence of the Honduras Secretary his wife and Mr. Nehemias Orellana SI member from Honduras. Adela Segura SERVAS deputy Guatemala and Fanny Bello SERVAS member from Venezuela. We were about 40 guests counting some non SERVAS
We enjoyed a talk about peace from professional public speaker and motivator Sr Rafael Murillo .Enjoyed group games and a Dance presentation before having a lunch together.
Really a great motivation and honor to belong to SERVAS an organization that seeks world peace
Thank You
IN PEACE
CARMEN
Secretary SERVAS COSTA RICA